**UPDATE**

All rewards have been distributed.




This week's Summer of Surprises Event is so surprising that it brings tears to the Goddess' eyes!
Today, Tuesday, July 30th, all players will receive 3 free Goddess Teardrops. These epic items will magically appear in your Special Storage sometime during the day, so make sure to keep an eye out.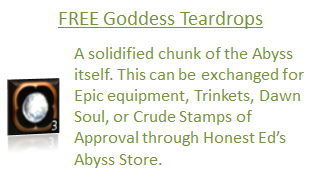 Additionally, players who purchase 10 or 30-packs of Dragon Eggs will receive the same pack for free all day long!
Details: Purchase a 10-pack or 30-pack of Dragon Eggs
Reward: One matching pack for free

*Dragon Egg sale is exclusive to the 10 and 30-pack item purchases.
*Players who purchased the 10 or 30-pack Dragon Eggs today (Tuesday, July 30), prior to the mention of this event, will still receive a matching pack for FREE!
*This sale is limited to NX Prepaid ONLY.
*Limit 100 free Dragon Eggs per account.
*Free Dragon Eggs will be distributed to the account's Special Storage.
*Rewards will be distributed starting July 31st.