If May is reciting more of her insufferable poetry than usual, it can only mean one thing: Valentine's Day is here! This year, Dragon Nest is giving back to the fans with special gifts and events. Snuggle up to someone special and celebrate the power of love!
From February 13th to February 17th, get 10% of your NX Prepaid purchases back as Scales. Purchases must be made with NX Prepaid and you may receive a maximum of 100,000 Scales back.
And on February 14th, all players will receive the following items, our way of saying thank you for being so special and awesome.  Items will be sent to your Special Storage and will expire after 24 hours if they are not retrieved.
- 4x Happy Boxes
- Photo Gesture
- 2x Pink Pet Dye, 1 regular, 1 partial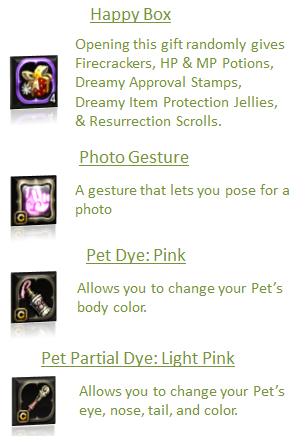 Uh oh, I think May's batting her eyelashes at you. That's not a good sign. Oh no. No, no, no. She's mixing something in a pot for you... and she's preparing a bouquet of rotten flowers... RUN!! RUN NOW BEFORE IT'S TOO LATE!!