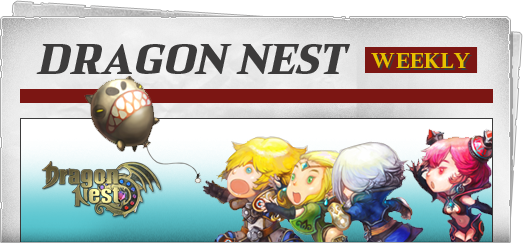 Adventurer's League Board, September 30, 2011


Greeting Adventurers!

Welcome back to Dragon Nest Weekly! The big day has arrived! It's launch day, the day that I, David get introduced to the world! Oh, yeah, the game is officiially launching too, so if you want to check out all the details of the "Welcome to Saint's Haven" update, we've got them here. Check out Dragon Nest TV, where you can see some of the new enemies you're going to face. You'll definitely enjoy the game's launch events, and you might want to stop by the Dragon Vault to check out all the cool new stuff available. International players will be excited at the great news about NX that was just announced. Finally, be sure to read the Question of the Week if you want to see who would win in a fight between Argent, Velskud, and Gerrant (which is a silly question because we all know the answer is... David!) Read Dragon Nest Weekly if you want to be as great an adventurer as me!

- David

Headlines

Complete Update Notes: Welcome to Saint's Haven


Welcome to Saint's Haven, a big city filled with bigger adventures! The latest Dragon Nest update includes the new city, an increased level cap, a PvP Ladder update, the updated faction system, new stuff in the Dragon Vault and much more!!

Welcome home!


Dragon Nest TV: Battle New Enemies



Are you in the know about all things Dragon Nest? Not if you're not watching Dragon Nest TV! Get into the game in a whole new way with Dragon Nest TV, our streaming web show that follows your Community Representatives as they play through the vast world of Dragon Nest!

Check it out!

"Welcome to the Big Time!" – The Dragon Nest Launch Events!


Welcome to Saint's Haven and Dragon Nest's official launch. Get ready to explore a whole new level of adventure! Since you're about to hit the big time in the big city, starting on September 28, we'll be throwing some exciting events to start you off on the right foot.

Come on in!

International Players: More NX for Your Money

Great news! Prepaid card buyers in Canada, Australia, and New Zealand will now receive more NX with each purchase of Nexon Game Cards and Karma Koins. This change is a service we are able to provide as part of the rollout of Karma Koins. The new amounts more accurately reflect prices players are paying for game cards due to differences in exchange rates, and we are happy to offer this additional benefit for our international players!

Get the details


Fashion Forward: The Dragon Vault Update

Welcome to Saint's Haven my friends! You've done pretty well for yourselves in little podunk towns like Mana Ridge and Carderock Pass, but this is the big time! You'll need to get the latest gear and the hottest clothes if you're going to make a splash in this city. Check out what's available in the Dragon Vault now!

Sharp!


Watch BlabberBox Mini 4 

Are you ready for the latest BlabberBox mini? Another set of hilarious shorts and insider looks are coming your way, sprinkled throughout with headlines from Nexon News of the Future!   
Open the box!
Earn Bonus NX with PayByCash


Looking for a convenient way to get NX Prepaid? Want to make your cash go further? For one month only, when you use PayByCash you'll earn bonus NX!

Get the details!

Question of the Week

It's time for the Question of the Week! Who do you think would win in a fight between Argenta, Velksud and Gerrant and why? 


"Love is a perky elf dancing a merry little jig and then suddenly he turns on you with a miniature machine gun." -- Matt Groening 
Here's what some of your fellow adventurers said:


argenta because she stole my first kiss. -- Mimi G.    

Gerrant, why? Because he uses a sword and we all know swords are instant win! Oh, and he has an epic outfit! - LaDaniel B.       

Argenta, because we all get the title "Argenta's Slave" lol. - Jabin M.       

Check out the discussion on Facebook