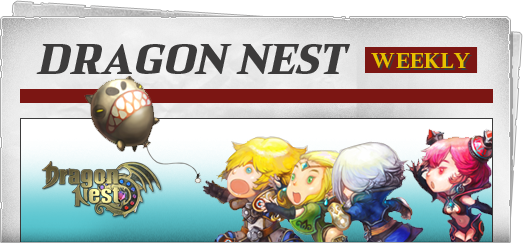 Adventurer's League Board, December 22, 2011


Happy Holidays Adventurers!

As the last edition of Dragon Nest Weekly for 2011, this one's a little bit different. In addition to our usual round-up of current events, we thought it would be fun to look back and chart everything from our launch to all the exciting additions and changes that made 2011 such a rush for all of us. If you're up for some time travel, click the links below to revisit posts from the past.
First though, we'd like to make way for a special message from the Dragon Nest team.
Dear Adventurers,
As the end of 2011 approaches, we wanted to extend a special thank you to all of our players for helping make this a memorable year for Dragon Nest!
From the start of Closed Beta in June, through our Open Beta in July, and our Official Launch in September to our latest Scarlet Snow patch, we've had a great time. We will never forget the first in-game GM dance party, where many players joined to celebrate the launch of their new favorite online game!
Of course 2011 hasn't been without its difficulties, but as the year comes to a close, we want to thank you all for your support during the fun times and your patience during the rough patches. We'd also like to express our gratitude to all of the editors and publications who have recognized how great Dragon Nest is by honoring us with a number of awards and award nominations.
We hope to see all of you in Verathea in the New Year… we promise to make it worth your while!

-- Your Dragon Nest Team --

Please enjoy the holidays and have the happiest of New Years from everyone at Nexon who works on Dragon Nest!

See you in 2012!
Events
We love throwing events. Dragon Nest isn't just a static place where you come to shoot at collections of AI with pretty graphics. Dragon Nest has a constantly changing array of events ranging from bonus EXP weekends to dungeon dives to the current Winter Festival. Dragon Nest is a world – your world – and we want it to be a living community worth coming back to again and again.

We've got a lot of fun stuff planned for 2012, but in the meantime, enjoy our current events!   

Nexon Hat Trick Event – Three Games, 20 Levels, Big Rewards
The Winter Festival is Here
Adventurers Assemble – 40% Bonus EXP Event

Dragon Vault 

Dragon Nest is free to play. We take pride in knowing that you never have to spend a dime to be able to play all that we offer. On the other hand, we also take pride in offering an array of fun items in our Dragon Vault. Every Dragon Vault update brings you new cosmetic clothing that will make you the envy of your friends along with utility and convenience items that can make your game experience even more enjoyable. We also offer regular sales and special events that can get you these items at greatly reduced prices – maybe even for free!

Check out the latest additions to the Dragon Vault, then stop by in-game.    

Stocking Stuffers: The Dragon Vault Update
12 Days of Christmas Offers
Adventurers Assemble – 40% Bonus EXP Event
Get 2X the NX with Karma Koin!
The Dragon Nest Enhancement Guide

Videos 

Sure, every game puts up videos, but only Dragon Nest has Alteris, a community manager who is – to put it mildly – insane. Alteris hosts Dragon Nest TV where you can get previews of upcoming content narrated in his own inimitable style. He also puts up a regular series of "Dare the Community Manager" videos where he does bizarre things in answer to your suggestions. We were also impressed with the winner of the "Hunt the Hellhound contest who demonstrated some pretty impressive skills.

Check them, and all our other videos, out on our YouTube channel!    

Dragon Nest YouTube Channel
Dragon Nest TV – Manticore Nest Run
Hunt the Hellhound Video Winner

Content Updates and New Features!

Even on launch day, the Dragon Nest team didn't take more than five minutes to celebrate. We knew that we had a lot of work to do to bring out the true potential of Dragon Nest. Even during the Open Beta, we were adding in new content and new features. Since the launch we've added in six content updates. That's one every three to four weeks! We're not done yet though. There's plenty of stuff coming in 2012 including a raised level cap, new items, new quests, new modes for PvP and a whole lot more! 

Open Beta Update – Enter the Labyrinth
Open Beta Update – PvP
The Edge of Darkness
Welcome to Saint's Haven
Release the Hellhound
Theater of War
Scarlet Snow