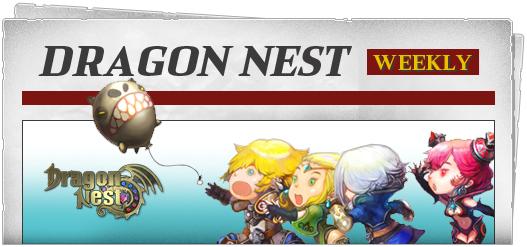 Adventurer's League Board, May 04, 2012
Greetings, David's deputies!

I want YOU to join up today! Join what? Whatever you want! Join a guild! Join an Abyss dungeon run!  The important thing is that when you team up with others, you can accomplish ten times what you could do on your own.  Believe me; I know all about using others—erm, I mean, working with others to achieve your goals.  So, what are you waiting for?  Get out there and get to adventuring!

Your hero,

Ultimate Supreme Commander-in-Chief David
Headlines
Complete Update Notes – Guild Champions


Speaking of guilds, have you heard about the Guild Champions update yet?  This will be the most rumble-icious update to hit Dragon Nest yet!

Read all about it, my friend.


Dungeon DASH Event


If you're like me, when you find yourself in an Abyss dungeon, you can't get out of there fast enough. Here's your chance to prove you can run as fast as me!

Find out more.


Dragon Egg Update: The Dire Wolf Emerges


If you're still looking for something to join, you should join David's Wolf Riders!  It's not a real thing, but with this Dire Wolf mount, you'll feel like it is!

Learn all about Dire Wolves and the Dragon Eggs they hatch from.


Dragon Vault Update: Soldiers of Style


Nothing makes you fit in better than a sweet uniform.  And while you're at it, you can dye your pet poochum to match your new threads.

Suit up!



David's Dazzling Donations: Week 3


Sometimes I'm so generous I make myself sick. If you want a taste of my generosity, check out this awesome event—but hurry up, because you've got less than 24 hours left to enter for this week!

Join in the fun right now!


Community Contest: Wild Travels Writing Contest

Everybody had to start somewhere, and we want to know where you started! Tell us your mysterious character origins, and you could get a fistful of NX...and a slick Dragon Nest T-shirt, too!

Take up your quills and write! Write like you've never written before!

Community Spotlight
Camaraderie Showoff

The entries are in, and you still have until May 6 to vote!  Who is the most camaraderie-est of guilds?  Their fates are in your hand!

Cast your vote today.


Marisa's Art Shop

MARISA in the forums has opened up an art shop, and she's taking commissions now!  Get a breathtaking rendition of your avatar today! I'm thinking of hiring her to draw my heroic victory over my arch nemesis, the manticore Saslavan...

Take a look at the shop.