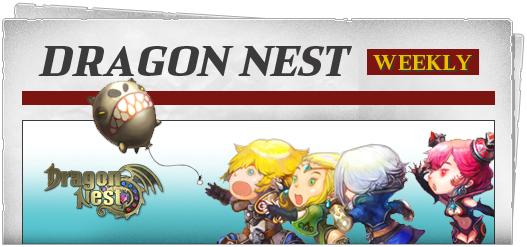 Adventurer's League Board, June 8, 2012
Greetings, David's Angels!

I met this strange girl the other day. She was running around with a cannon, and she had this big metal bodyguard named marinara or something. It was the darndest thing! You'll probably think I'm crazy, but I think this is an invasion from the future...and I can prove it! Big things are coming, my friends...

Your hero,

Not-crazy David
Headlines
Preview: Tinkerer



She's got cannons, energy blasters, robot minions, and power over the chemicals of life and death. What more could you want?

Read all about Dragon Nest's next class!


Character Expansion Slot Giveaway!
Make way for the Tinkerer! If you have at least one Lv. 24 character by June 19, you'll get a free Character Expansion Slot!
Find out more.


Protection Jelly Sales Event

Nothing beats enhancing your gear on a weekend. For every Item Protection Jelly you buy from the Dragon Vault this weekend, you'll get 3 free Comet Dusts.

Super-charge your enhancing.


Happy Family Event



Father's Day is a week away, and you know what that means: Bonus family gift boxes for the Happy Family Event! Oh, and something about your dad, too.

Read about happy families here.


Complete Update Notes – Rumble in the Garden



The latest update adds a whole new PvP map, the Family Month event, flashy costumes, and Guild Rumble.

Don't miss out.


Dragon Vault Update: Arcane Accoutrements



With Scrolls of Unlimited Unlearning, new wings and decals, and an enchanting set of outfits, the Arcane Accoutrements update has everything you need to stand out in a crowd.

Learn about unlearning.
Community Spotlight

Tinkerer on PC Gamer!
Check out PC Gamer's coverage of the upcoming Tinkerer class!
Reading is good for you.


Dragon Nest in MMOVault's Top 10

MMOVault has put together its list of top 10 free-to-play MMOs.

Counting is fun.


Dragon Nest Cosplay Event
Combine your love of dressing like Dragon Nest characters with your love of sweet Razer hardware and poochums! Enter your cosplay photos by June 28, and these wonderful prizes can be yours!
Join the contest.


League of the Unfortunate: Special Guild Rumble Chapter!

This week's League of the Unfortunate covers everybody's favorite Guild Rumble.

Check it out.