Adventurer's League Board, July 06, 2012
Greetings, rumblers!

It's that time of the month again, when we all put on our best rumble pants and beat each other silly. I went easy on you all last Guild Rumble, but this month my one-man guild, the Golden Davids, will be back and we'll take all comers! So c'mon, let's rumble!

Your hero,

David the Golden
Headlines
Dragon Eggs: Buy One Get One Free Event

Whether you want to ride into the sunset on a Chestnut Fire Mare or soar through the skies with Gadget Robo Wings, now's the time to go for your dreams! Get 1 bonus Dragon Egg for every Dragon Egg you buy on July 7 and July 8!

What dragon is laying all these eggs, anyway?


Tinkerer Sprint Event


The race isn't over yet! Reach level 20, 30, or 40 by July 18 with your Tinkerer, and we'll shower you with excellent prizes!

Find out more.


Guild Rumble II Schedule Calendar


If you've got a guild and you haven't registered for Guild Rumble yet, what are you waiting for? Registration for this month's rumble closes on July 8!

Check out the rumble schedule.


Dragon Vault Update: Icarian Heights


A flaming mare, robotic wings, and a pile of fierce costumes are waiting for you in the Dragon Vault. Don't be the last to find out about this month's Dragon Vault update!

Who doesn't want a harlequin hat?


Complete Update Notes – The Tinkerer and More


With our latest update, we got the Tinkerer, new costumes, updates to the guild system... What isn't to love?

Read all about the update!
Community Spotlight
Facebook Cosplay Event Winners!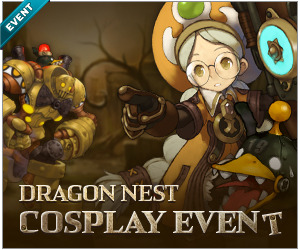 Check out the awesome winners of our cosplay event!  I'm very disappointed you didn't dress up as yours truly, but I understand. Who could truly capture my sheer awesomeness?

Bask in their glory!


Dragon Nest Draw-off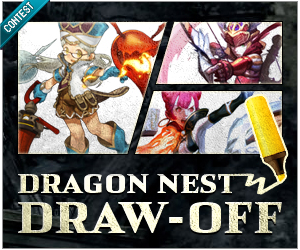 We're challenging you to a good old-fashioned draw-off. Show us your best Dragon Nest comic and you could walk away with your very own quackum cape!

Find out more.

Hurry up and join!


WhalingDuck's Tinkerer Fan Art

WhalingDuck over on the Dragon Nest forums has decided to share this adorable Tinkerer picture. Isn't she the cutest?

Behold the preciousness!