Dear players,

Due to the significant change in every character's skills, we are offering a chance for you to experiment with different builds to see what you like best.

On Saturday, September 1st, 2012 at 11:00 AM (2:00 PM Eastern), we will be distributing a Scroll of Unlimited Unlearning to all characters on each server.

This scroll will allow you to try different skills risk free for a 24 hour period. Just be sure to use the scroll one last time before it expires if you decide not to go with the current build.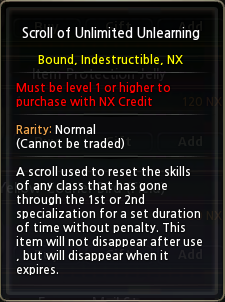 Note:
-      The Scroll of Unlimited Unlearning will only last 24 hours in your Gift Box within the Dragon Vault.