**UPDATE**

This event is now over. Titles have been rewarded.



If you have the perfect team, the ultimate strategic prowess, and the unchecked power to take down the Sea Dragon Nest on Hardcore, everyone should know it! Complete Sea Dragon Nest Hardcore from September 5th to September 18th and you'll get the permanent "Sea How Hardcore?" title.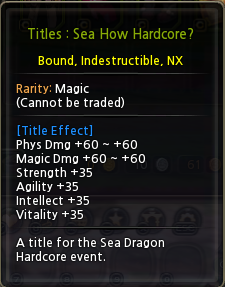 Not sure what Sea Dragon Nest Hardcore more is all about? Click here to find out.

NOTE:
-      Limit one title per character.
-      Distribution of titles will start September 20th.
*The Dragon Nest team reserves the right to cancel, modify, or extend this event.