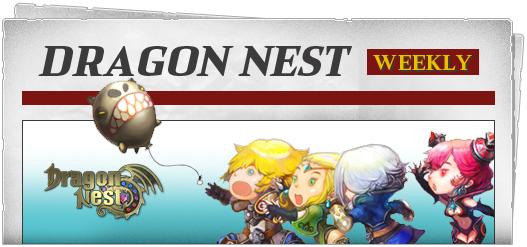 Adventurer's League Board,
September 7, 2012


Greetings David's Allies!

I heard a rumor that the East and West servers are going to be combined… Good luck with that! I tried to combine worlds eons ago and it's just not possible. It requires such an enormous amount of energy, such a monumentally epic training regimen, and such unwavering dedication that not a soul alive can possibly pull it off! Trust me, if anyone could do it, it would be me. I'll be glad to sit back and watch them try.

Your Hero,

David the Naysayer



Headlines



1 Year Anniversary: a Month of Events
Dragon Nest is turning 1 on
September 28th,
and you'll be celebrating all month long!
Join the celebration!



Dragon Nest Full Server Alliance

One server to rule them all. The Dragon Nest community is about to merged!

See the post!


Winners of the Sea Dragon Nest Speed Run Event!



Hear what Team Oblivion has to say about completing the Sea Dragon Nest the fastest and claiming $3,000 worth of scales!
Read more!

Sea Dragon Nest Hardcore Clear Event



Oh, you thought the Sea Dragon Nest was tough? Get ready for a whole new level of challenge with the Sea Dragon Nest Hardcore Clear Event! Conquer the nest on Hardcore during the event period, and everyone will know your strength!

See the event!

Complete Update Notes - Rising Tides



Exciting new features have drifted in on the Rising Tides. See the complete update notes here for the details!

Get the details!


Wipeout Mode



See how many enemies you can defeat 1 on 1 before passing the torch to your teammates in the new PvP mode!
Check it out!


Dragon Vault Update: Ferocious Fighters



New pets, pet color dyes, and outfits have been packed into the Dragon Vault!
See the update!