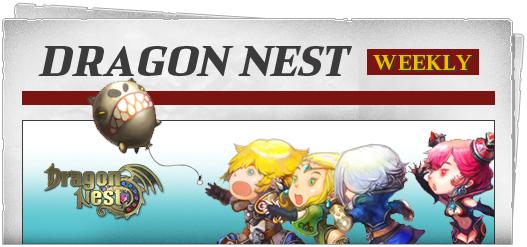 Greetings David's equalizers!

Well, it looks like they did it. They somehow combined the East and West servers into one huge world! It was actually quite impressive to watch. Of course, something had to go wrong… When they merged the worlds, they put the seam right under my house! I have a feeling that might cause some trouble in the future, but if it means happiness for everyone else, I'll take the hit. It's in my nature.

Your hero,

David the martyr




Adventurer's League Board,
September 14, 2012





Full Server Alliance complete

The full server alliance is complete and now East and West players occupy the same world! You still log in to your usual server, but now you'll be able to play with players from both servers.

Get the details!


Celebrate DN's 1 Year Anniversary All Month Long

Continue celebrating DN's 1 year anniversary this weekend with the Bonus EXP Event and Old Maury's Harvest Challenge!
Check out the events!



Sea Dragon Nest Hardcore Clear Event



The regular Sea Dragon Nest has been conquered, but who has the guts to take Leviatha down in hardcore mode?
See more!



Complete Update Notes - Rising Tides



Exciting new features have drifted in on the Rising Tides. See the complete update notes here for the details!
Check it out!



New PvP Wipeout Mode



See how many enemies you can defeat 1 on 1 before passing the torch to your teammates in the new PvP mode!
Read on!



Dragon Vault Update: Ferocious Fighters



New pets, pet color dyes, and outfits have been packed into the Dragon Vault in the latest update!
Update details!
Community Spotlight
Check out RieznRimina's awesome Archer and Warrior fan art!

See for yourself!