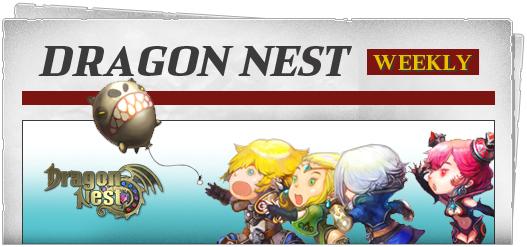 Greetings David's henchmen!

Wait… Dragon Nest is turning 1? TODAY!? How did I not know this? I didn't get a present. Maybe I can whip up a batch of my famous poochum-flavored jelly beans. No, no. I'm out of poochum hair… I have to go brainstorm!

Your Hero,

David the belated




Adventurer's League Board,
September 28, 2012





Buy 2 Get 1 Dragon Egg Free Event


From September 28th to 30th, every 2 Dragon Eggs you purchase with NX Prepaid will get you 1 Dragon Egg free!

See the details!


Complete Update Notes - Dragon Nest Turns One!


See all the new features and events that came to Dragon Nest in the latest update.

Get the scoop!


The Tale of the Golden Egg


The Golden Egg is giving players the opportunity to acquire huge amounts of gold instantly, but where did it come from?

Find out!


Pinata Party Event


Beat up some Pinatas for awesome prizes in the Pinata Party Event!

Beat 'em up!


Dragon Vault Update: The Golden Age Begins


Get gold from the Golden Egg, try on School Uniforms, and get new Costumes in the Dragon Vault Update.

Check it out!


1 Year Anniversary: Celebrate all month long


Dragon Nest is getting old! Check out the huge Anniversary Extravaganza in full swing right now.

Come celebrate!