**UPDATE**

All Magnifying Glasses have been sent out. Thank you for keeping your account secure!


Due to changes in our encryption method, we're resetting ALL 2nd passwords on October 24th. To maintain account security, please set a new 2nd Password on or after October 24th.
If you set your password by November 6th, you'll even get a gift! As a thank you for keeping your account secure, we're giving out 5 Magnifying Glasses to everyone who sets their password between October 24th and November 6th. Strengthen your account and reveal some chests in one move!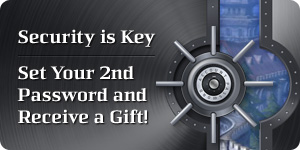 Details:
·        Date: 10/24 - 11/06
·    How: Set 2nd passwords

·    Rewards: 5 Magnifying Glasses
*         Rewards will be distributed starting 11/7.

*         Limit one reward per account – resetting your 2nd password multiple times will not get you more Magnifying Glasses.
To find out how to set your 2nd password, click here or follow these instructions:

·         On the navigation banner at the top of the website, click "Support", then click "2nd Password Info."

·         Click the button that says "Reset My 2nd Password" when you're logged out of the game.


Go reset those 2nd passwords, start the game, and receive your 5 Magnifying Glasses!