**UPDATE**

All rewards have been distributed. Congratulations to all the winners.




Archbishop Kazalman has issued a challenge to all adventurers. He thinks even the top adventurers in Altera will fail to clear his nest five times in a week. From November 7th – November 20th, clear the Archbishop Nest five times per week to receive Lv. 50 Epic Sparks to enhance your equipment!  The challenge will run for two weeks, giving you the opportunity to earn different types of Epic Sparks. Are you tough enough to beat the Archbishop at his game?
Archbishop Kazalman is so confident that players won't be able to accomplish his challenge that he's giving everyone a head start. He's giving one Ancient Totem Disc to all Lv. 40-50 players for FREE!
Details:
·         Date: 11/7 – 11/20.
·         How: Clear Archbishop Nest 5 times within a week.
·         Reward: Free Lv. 50 Spark (Epic) for each week you meet the requirement.
Seven Ancient Totem Disc items will be handed out starting 11/7, and an additional 7 will be given starting11/14.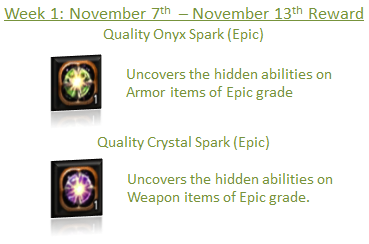 So, what are you waiting for? Beat Archbishop Kazalman at his game and win yourself some sparks!