**UPDATE**

The Guild Rumble has ended. All rewards have been distributed.

Congratulations to Oblivion for coming out on top and becoming the champions in Guild Rumble!




Welcome to Dragon Nest's third Guild Rumble. The best of the best from every corner of Altera are gathering to compete, and the festivities are in full swing!
In previous Guild Rumbles, we always had two winners claim victory over the other guilds on their server. Victory in those days was an impressive feat indeed, but now that the servers are combined, the competition will be even more fierce! Will the West Server's previous Champions, "Infamous", or the East Server's previous Champions "Somnium" rise to the top once again, or will another guild take the top spot?
Check out the details regarding the Guild Rumble, here.
Take a look at the schedule for period times.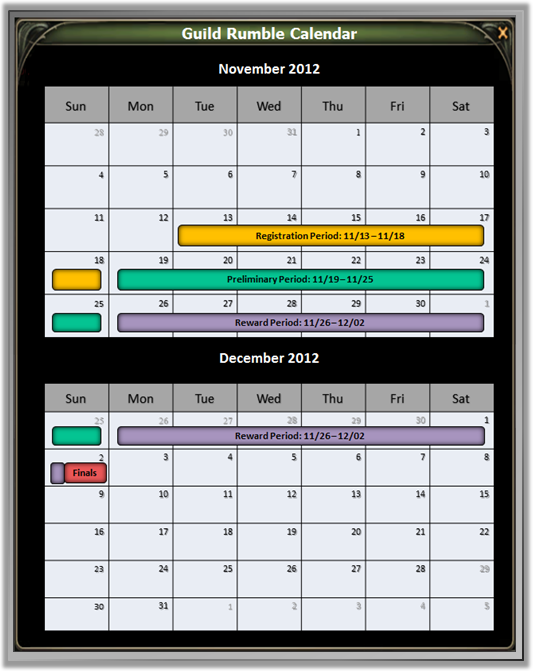 Guild Registration Period: November 13 – November 18
Preliminary Period: November 19 – November 25
Reward Period: November 26 – December 02
Finals: December 02
-Finals Rules-
·      To be eligible to participate in the Final, your guild must be ranked top 16 or higher in total points accumulated during the preliminary period.
·      Participating guilds must be in the Arena Lobby at the arranged time to join the tournament. Once the tournament is in progress, a room will automatically be created for each match.
·      Find the room with your guild name in it to join. Once there, players will have five minutes after each phase of the tournament begins to prepare for the match. After five minutes, players can click START to head to the battlefield.
·      Once matches are in progress, players are free to leave the Arena and rejoin later as long as the match is still in session.
·      A Finals match lasts for 30 minutes or until a crystal from either team is destroyed.
·      Winners of the match move up to the next Finals Round and must wait until the next matches begin.
-Finals times-
·      Opening Round – 3:00 PM Pacific (6:00 PM Eastern)
·      Quarterfinals Round – 4:00 PM Pacific (7:00 PM Eastern)
·      Semifinals Round – 5:00 PM Pacific (8:00 PM Eastern)
·      Grand Finals Round – 6:00 PM Pacific (9:00 PM Eastern)