**UPDATE**

All rewards have been distributed.




The New Year is finally upon us, and now is the perfect time to kick it off by enhancing all your equipment to the max in Dragon Nest's New Year's Enhancement Sale!
From Saturday, January 5th through Sunday, January 6th, for every 50 Item Protection Jellies you purchase, you'll receive 50 Quality Altheums for FREE!
Details:
Date: 01/05 – 1/06
How: Buy 50 Item Protection Jellies with NX Prepaid
Reward: Get 50 Quality Altheums Free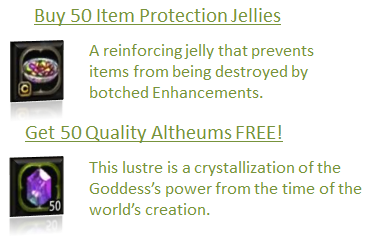 -       Limit 100 Free Quality Altheums per account.
-       Must be purchased during the event period in order to qualify.
Prepare for new adventures in 2013 with weapons and armor that won't let you down!