New Items and impressive costumes are now available so you can live by the bushido code!
New Items
Hidden Crest 3 Slots (30 Days)
Unlock your hidden potential! This item unlocks 3 hidden crest slots, which can be fitted with Crests to bolster your stats or add special skills for only 5,900 NX.

Class Change Coupon (2nd + 3rd)
Have you seen everything your specialization has to offer? For only 14,900 NX, use a Class Change Coupon to reset your SP and switch to a different specialization! Now you're one step closer to creating the perfect adventurer.


New Japan-themed Costumes
Sharpen up your honor and don these Japan-themed Costumes to prove you live by the bushido code! Get the package for a discount and bonuses!
-          Package Price = 29,000 NX (5% Discount)
-          Can be purchased as a package or in individual pieces
-          Purchasing the Package will give:
o   Permanent versions of the costumes
o   Permanent versions of the costume skins for main and off-hand weapons
o   Lightning of Wrath decal (90 days)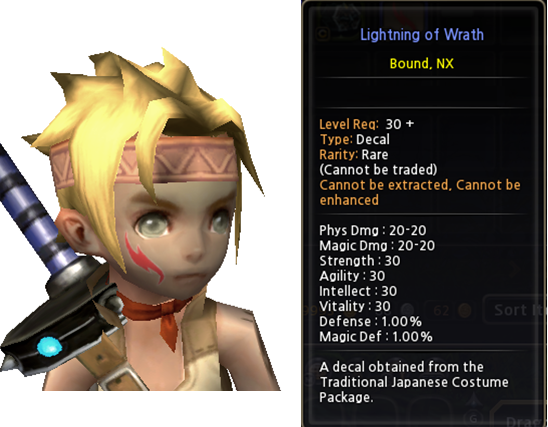 o   Distant Shores Costume Title Box (a 6,400 NX item FREE!)

This is a random box that gives players 1 out of 6 possible permanent titles.