**UPDATE**

Congratulations to OneTwoTree for being the first player to reach Lv. 60!




Think you're the fastest player in Altera? Prove it during the Adventure to 60 Event, from June 20th until July 10th! If you're the first player to battle your way to level 60 and complete the main quest line, you'll get a one-of-a-kind Title, 100 Dreamy Approval Stamps, 100 Dreamy Item Protection Jellies, and 3 Dragon Eggs to help you conquer all the new content in Chapter 9: Resurrection!

Date: 06/20 - 07/10
What: 1st player who reaches level 60 and completes the main quest line receives the prize
Reward: "First to Reach Sixty" Title, 100x Dreamy Approval Stamps, 100x Dreamy Item Protection Jellies, 3x Dragon Eggs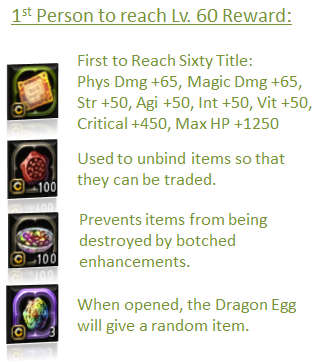 *The reward will be distributed starting 07/12.

Fire up your toughest character and get leveling!