Nothing's better than a three day weekend, right? How about a three day weekend chock full of sales and events?
Starting January 18th and running through to January 20th, you can buy one of the items below and get a second for free! Three day weekend AND buy one, get one free?! Now you're just pulling my leg!
Details: Purchase one 10-pack, 30-pack, or 50-pack of Approval Stamps or Item Protection Jellies
Reward: Same pack for free!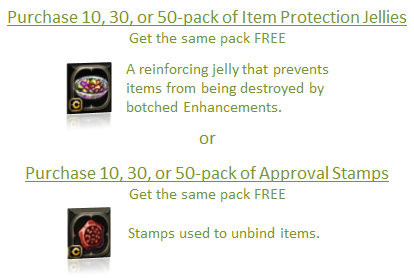 *Item Protection Jelly & Approval Stamp sale is limited to the 10, 30 and 50 pack item purchases.
*This sale is limited to NX Prepaid ONLY.
*Limit 200 free Approval Stamps and Item Protection Jellies per account.
*Free items will be distributed to the account's Special Storage starting January 22nd.
Now that you're stocked up on Jellies and Approval stamps, it's time to get your monster huntin' on.
Details: Kill monsters in dungeons
Reward: 100% EXP bonus on all monster kills, PLUS a 50% bonus on all item drops

That's a lot of monsters!
If you fell behind on leveling last year, this is a great way to get a New Year's boost right out of the gate, so don't miss out!